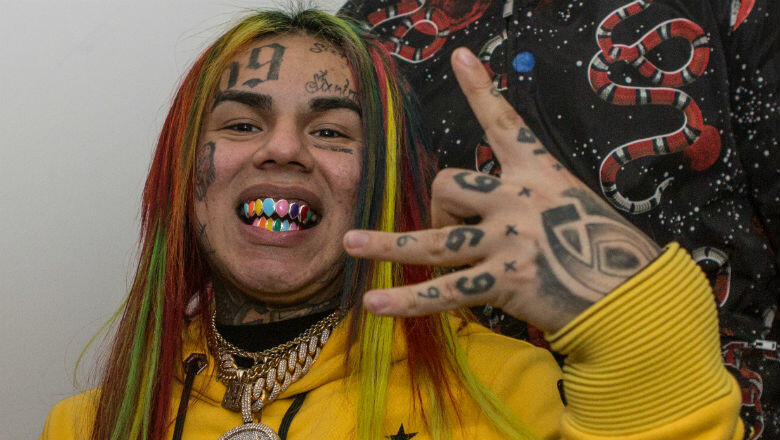 So the saga of Tekashi 6ix9ine has taken an interesting turn that may shine a light onhow certain successes have been achieved.
Billboard addressed Tekashi 6ix9ine's cheating allegations in a detailed article after his comeback single "GOOBA" landed in the Billboard Hot 100's No. 3 spot.
The publication defended calculations that put Ariana Grande & Justin Bieber's "Stuck With U" at the top of the chart.
6ix9ine started making noise after predictions indicated he wouldn't land at No. 1. Billboard pointed out they had nothing to do with those charts.
"The chart forecast referenced was not created nor provided by Billboard to the industry," Billboard says. "Those with access to sales, streaming and radio data from various sources often create their own chart models and update them at their own frequency. Billboard does not distribute any Hot 100 ranking forecast to labels, management or artists."
Billboard also noted 6ix9ine was not counting the streams correctly. The number listed on the "GOOBA" YouTube video shows global plays, and they only count United States-based plays. The total stream count for the single amounted to 55.3 million combined audio and video U.S. streams not the 180 million global streams 6ix9ine referenced.
6ix9ine claimed Grande's team bought 60,000 streams at the last minute with just six credit cards. Billboard denied that.
"Billboard and Nielsen Music/MRC Data conducts audits on all sales reported with access to purchase-level detail, and works with data partners to recognize excessive bulk purchases and remove those units from the final sales total," they said. "All titles this week, as in every week, were put under the same scrutiny. (Billboard has reached out to Fame House/Bravado, retailer and reporter of director-to-consumer sales, for further comment about the sales data provided for 'Stuck With U.') Billboard and Nielsen Music/MRC Data were open and forthright with all information pertaining to 'GOOBA' with 6ix9ine's team. That includes explaining the Hot 100 methodology and how the final ranking and chart points for "GOOBA" were calculated. Billboard and Nielsen Music/MRC Data cannot, however, provide granular detail on a title to anyone but its content owner."
6ix9ine is still trolling Billboard on Instagram. He shared a photo of himself holding six credit cards and wrote in the caption, "Don't worry we are going #1 next time @Billboard."
Tekashi 6IX9INE'S "GOOBA" broke a YouTube record for most streams within a 24-hour period and his Instagram Live session reeled in a record-breaking 1.9 million viewers.
"@billboard We're watching this very closely," he wrote. "The world is watching very closely, we love you and always supported the charting. On every platform we are dominating by a LANDSLIDE. The numbers are there and to be looked at. WITH NO RADIO WE ARE DOMINATING THE STREAMS. I will hate to believe that people pay for their spins on the radio and making manipulating bundles to manipulate the chart. Again it's still early Im just making it clear that the world is watching."
Bundles have caused issues in the past. Nicki Minaj went nuclear on Travis Scott after her 2018 album Queen debuted at No. 2 on the Billboard 200 and Scott's Astroworld landed at No. 1.
She cited the bundles Scott was selling which included a meet-and-greet with Scott's former girlfriend Kylie Jenner and their daughter Stormi as the primary reason Astroworld took the coveted spot.
"When Travis comes along and sells a tour pass that has nothing to do with his fucking music and says he's sold more than Kanye West and Nas no you fucking didn't, keep it the fuck real," she added. "I know I'm that bitch, I know I'm Number 1."
Photos by Getty Images